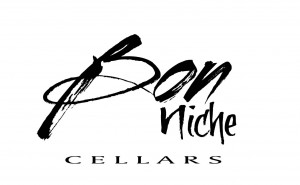 One of our newest PRCC members is Bon Niche Cellars, owned by Joyce and Wally Murray.
Bon Niche, roughly translated from the French as "a very good place," is truly on the outskirts of the Paso Robles AVA, far from the path of wine tasting buses and limousines. But despite being on the fringe geographically, Bon Niche and its owners, Wally and Joyce Murray, have been in the spotlight with several awards and honors for their powerful yet plush, well-structured, velvet-tannin wines. In fact, when the Murrays released the first Bon Niche Cellars vintage in 2010, every wine entered into competition received an award, including a Four-Star Gold Medal for both the 2010 Voûtes (Malbec, Petit Verdot and Cabernet Sauvignon) and 2010 Chemin (Cabernet Sauvignon, Malbec, Petit Verdot, Merlot) at the Orange County Fair.

Like so many producers in our area, the Murrays landed in the Paso Robles AVA after a long hunt for the right vineyard property on which to stake their winemaking vision. Purchased in 2005, the Bon Niche estate boasts rich soils, hot days and cool nights in which the Murray's Malbec, Petit Verdot and Cabernet Franc thrive, though Bon Niche wines are also sourced from nearby vineyards to make both varietal and blended wines in a Bordeaux style, "with a touch of Rhône."
Bon Niche Cellars began in 2005 when Wally and Joyce Murray started their quest to find vineyard property in the Central Coast of California.  The result of the search was a beautiful slope with a spectacular view of the distant hills.  The rich soil, hot days and brisk nights were perfect for the French varietals that grow so well in the Paso Robles terroir.  The Murray's vineyard was quickly planted with Malbec, Petit Verdot and Cabernet Franc.  Combined with fruit from nearby vineyards both straight varietals and artisan blends are primarily Bordeaux style with a touch of Rhone.
While Bon Niche's far-flung location is prohibitive to opening the tasting room doors on a regular basis, tastings are available by appointment.  Bon Niche Cellars is located at 2627 Golden Eagle Way in San Miguel, CA 93451. Contact them at 805.286.7798 or  joycemurray@bonniche.com.