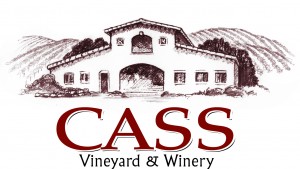 Paso Robles CAB Collective member Cass Vineyard & Winery sits on our AVA's east side, about 8 miles from downtown Paso Robles. Devoted to the production of 100% estate-grown wines, Cass focuses primarily on Rhône and Bordeaux varieties.

Cass wines are inspired by owners Steve Cass and Ted Plemons' visit to Stellenbosch, South Africa. On that trip, Cass and Plemons fell in love with the South African wine style, as well as the ambiance of the tasting rooms there, and even found Cass Winery's chief winemaker, Lood Kotze, by posting a job to the help wanted board at the University of Stellenbosch.
Cass vineyard's first harvest took place in 2003, and the tasting room opened its doors in 2005. Since then, Cass' fruit-forward wines have won critical accolades as well as popular acclaim. Their current Cabernet Sauvignon release, from 2011, is comprised of 76% Cabernet Sauvignon, 17% Petit Verdot and 7% Malbec. Tasting notes from the winery include:
"…aromas of warm winter spice notes of cinnamon and clove accompanied by baked plum, currant, cassis, and cedar. On the palate, flavors of baked black cherry, cola, licorice, red plum, and fig jam are complemented by high notes of brown sugar and wintergreen. Soft and full, the tannins are sweet and integrated, showing good mid-palate traction and a spicy body that trails off with a burst of melted cherry."
The Cass Winery buildings were built by co-owner, Ted Plemons, and integrate beautifully with the surrounding landscape. In addition to a full-service tasting room on site, Cass Winery also offers a cafe under the direction of Executive Chef, Jacob Lovejoy, who creates a variety of specialty plates from crab cakes to smoked chicken salad. The café is open daily from 11AM to 5PM and is also available to host private parties and events.
For more information on Cass Vineyard & Winery, please visit their website at www.casswines.com