One of our newest members is Red Soles Winery, a producer of fine Cabernet Sauvignon and Cabernet Franc, in addition to Viognier, Chardonnay, Tempranillo, Petite Sirah, Zinfandel, and others.
Owners Randy and Cheryl Phillips own 200 acres of vineyards, half on Paso Robles' East Side, and the other half surrounding their beautiful West Side tasting room. While they opened the winery in 2007, their first love and main business is growing sought-after grapes for a few other producers with whom they've partnered for many years. Red Soles wines represent the very best lots from their vineyards.
The name Red Soles comes from Randy and Cheryl's first winemaking experience, in which they crushed a barrel of Petite Sirah and Zinfandel grapes with their own feet. The results became their premier vintage, the 2004 "Kick-Off."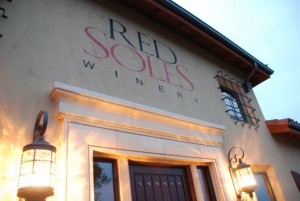 Since then, their wines have won many accolades, garnering 47 medals in 2013 alone. So far, in 2014 they have received Gold from Orange County for their Reserve Cab, Voignier, and Zapatillas.
Randy and Cheryl are often found in their tasting room,  encouraging visitors to indulge in a picnic on their beautiful vine-edged lawn. For more information on Red Soles Winery, please visit www.RedSolesWinery.com.