The History of Paso Robles Cabernet Sauvignon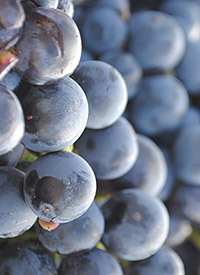 In Paso Robles Wine Country, CAB is king. Temperate days, cool nights and well-drained soil echo the growing conditions of Bordeaux, France, inspiring local winemakers to produce world class Cabernet Sauvignon, Cabernet Franc, Merlot, Petit Verdot and Malbec across the region's bucolic vineyard terrain in Paso Robles. Today, Cabernet Sauvignon — with its rich mouth feel, deep complexity and velvety finish — reigns supreme among Paso's Bordeaux bounty. The varietal makes up almost half of all grapes grown across the 614,000-acre Paso Robles AVA (American Viticultural Area), of which 40,000 acres are in wine grape vines. Elegant, robust and age-worthy, award-winning Paso Robles Cabernet Sauvignon has garnered extensive acclaim across the region and around the world.
The history of California's Best Cabernet Sauvignon
Long before becoming synonymous with world class wine, El Paso de Robles, or "The Pass of the Oaks," was known for its natural mineral baths, almonds and agriculture. In 1776, Franciscan priests produced Paso Roble's first wines. In the late 1800s, a handful of locals pioneered winemaking in the Central Coast region, including two of Paso's longest continuously-running wineries: Rotta Winery — which continues to operate under its original name — and York Mountain Winery, purchased by Epoch Estate Wines in 2010.
Cabernet Sauvignon Finds a home in Paso Robles
In 1914, Polish composer and dignitary Ignacy Paderewski made history by planting some of the area's earliest Zinfandel grapes, using York Mountain Winery to craft his award-winning wines. The 1920s and 1930s may have brought notoriety to Italian varietals, but the late 1960s and early 1970s brought on the emergence of what would become a true Paso Robles mainstay for decades to come: Cabernet Sauvignon.
Paso Robles Emerges as California's Premier Wine Region
Since 1986, Paso Robles Wine Country has experienced a true renaissance. From boutique wineries producing less than 800 cases per year to high-production facilities boasting 100,000 cases or more annually, Paso Robles wineries are cultivating distinct, high-quality Cabernet Sauvignon and red Bordeaux wines that earn national and worldwide recognition each and every year.
During those past 30 years, Paso Robles has also continued to attract dozens of world-class winemakers seeking a singular dream: The freedom to express their distinct winemaking philosophies in a land fertile with possibilities. Attracted to Paso's unique terroir and "Wild West" winemaking approach, vintners hailing from France, among other world-class wine regions, have experienced unbridled success amongst the landscape's undulating, oak-studded countryside. Unbound by the constraints of tradition, these talented transplants have sought the world round for the perfect winemaking conditions, finding a sublime balance of sun, soil and sovereignty in Paso Robles Wine Country.
Working alongside well-respected local winemakers — many of whom boast multiple generations of rich, winemaking and wine grape growing heritage — Cabernet Sauvignon has emerged as a flagship Paso Robles varietal. This new crop of rebel rousing vintners share an independent spirit, dedication to quality and immense passion for crafting the best Cabernet Sauvignon and red Bordeaux varietals in the world.
The Ideal Terroir is Found on the Central Coast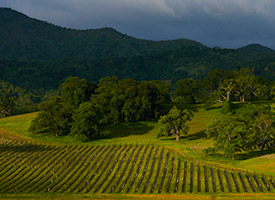 When it comes down to it, Paso Robles Cabernet producers are indeed preoccupied with a lofty goal: Capturing the terroir, or specific sense of place, within each bottle. When carried out successfully, Paso Robles' bold red Bordeaux wines reflect the land — and no two Paso Robles vineyards are the same. In Paso Robles Wine Country, geological diversity abounds, and a single vineyard block may contain a multitude of soil types. Cabernet Sauvignon and red Bordeaux varietals flourish, as the climate, long growing season and soil work together to promote consistent physiological ripeness season after season.
Grapes grown within the calcareous shale soils of the west side's Templeton Gap receive marine breezes followed by upward spikes in temperature, naturally stressing the vines to thrive. On Paso Robles' east side, a combination of warmer temperatures, cool nights and more granular calcareous soils allow precious Cabernet grapes to maintain their natural acidity. On both sides of the Salinas River, rolling hills are covered with sandy, loamy soils. From east to west and north to south, each vineyard boasts its own unique backstory. Once uncorked, this story flows freely.
California is Leading the Way in Advanced Winemaking Techniques
Mother Nature has certainly blessed Paso Robles with magnificent wine grape growing conditions, especially for Bordeaux varietals. However, Paso Robles Cabernet producers are not resting on their laurels: A new crop of hands-on Paso Robles winemakers are employing advanced viticultural and winemaking techniques that have raised the bar for red Bordeaux varietals across the region and beyond. Many emerging and longstanding Cabernet Sauvignon producers are utilizing deficit irrigation, strict pruning techniques and high-density planting, as well as experimenting with specific rootstock and clonal varieties.
In Paso Robles Wine Country, rootstocks are chosen with great care, selected for optimum interaction with the soil — of which the Paso Robles AVA boasts more than 40 types. Specific rootstocks can showcase a bevy of characteristics, including tolerance to drought, water and mineral efficiency, resistance to pests and diseases as well as overall vine vigor. With thoughtful consideration, these skilled vintners indirectly influence their vines for favorable grape yield, berry size, wine color and beyond.
The output is also highly affected by the type of grape planted, and many Paso Robles winemakers sing the praises of specially-selected clonal varieties, which are then matched to the terroir of specific vineyards or — more specifically — vineyard blocks. This process includes seeking out the ideal clone — or adaptation — of a particular grape before pairing it to a complementary geographic site. Clones are also often selected to resist fungus, promote a desired berry or cluster size, influence crop load or even manipulate ripening time. These clones tend to produce smaller yields, but are considered by many to yield higher-quality grapes, boasting black and blue fruit flavors and better integrated tannin profiles. Additionally, just as a master chef will tinker with a sauce to get just the right blend of spices, so are these Paso Robles winemakers monitoring the phenolic compounds within their wines, which, in turn, affect everything from taste and color to mouth feel and body of the finished wine.
Moving away from the vineyard and into the winery itself, a number of boutique-style production techniques are also coming into play in Paso Robles, both at larger, commercial wineries and smaller, more family-owned operations. Some winemakers favor a physically hands-on attitude, hand sorting the grapes after harvesting and hand punching down during fermentation, while others employ high-end equipment — such as machines that can sort one berry at a time —to achieve similar high-caliber results and attention to detail.
It's true: At the end of the day, all the little details add up to award-winning Paso Robles red Bordeaux wines. However, there's so much more to the process than simply ticking off boxes. When a shining attribute emerges within an impeccable vintage — whether that be a nuance in flavor profile, texture, mouth feel or color — Paso Robles Cabernet and red Bordeaux producers take note and, more often than not, get back to work. Now, more than ever, Paso Robles winemakers not only aim to replicate success, but strive to improve upon it.
The Paso Robles CAB Collective Begins
The Paso Robles CAB (Cabernet and Bordeaux) Collective (PRCC) was formed in 2012 in an effort to champion top Cabernet and red Bordeaux varietals to the world. Open to all wineries that produce superior-quality Cabernet Sauvignon and red Bordeaux varietals in the Paso Robles AVA, member wineries have the opportunity to work with and learn from other members. The organization is designed to create a network of knowledgeable and experienced industry professionals to assist each other from viticulture to production, marketing and sales.
A key initiative of the Paso Robles CAB Collective is to provide relevant historical as well as current viticultural information about the Paso Robles AVA and its ability to produce premium-quality Cabernet and red Bordeaux varietals. In addition, these passionate vintners make it a priority to get together on a regular basis for tastings and to share ideas and perspectives to better foster a sense of community while elevating the quality of the wines produced.